Annita - What Good'll It Do Me?
Reviewed by Cari Lee Merrit for Planet Rockabilly.com.
If Brenda Lee is "Little Miss Dynamite" then Annita Langereis is "Little Miss Atom Bomb"! She proves it by starting her album with Brenda Lee's "Bigelow 6-200" and gives the song a sizzling charge. This album starts off with a bang and rolls along like thunder, covering territory from jazz to honky tonk, all with a dynamic rockin' twist! Among the 19 songs on this disc, Annita brings out covers that are familiar as well as those that are unfamiliar. One of my favorites is the rare "Friction Heat", which was first recorded in 1958 by Bonnie Lou on the small Fraternity label. Annita really cooks on her version of "Why Don't You Haul Off And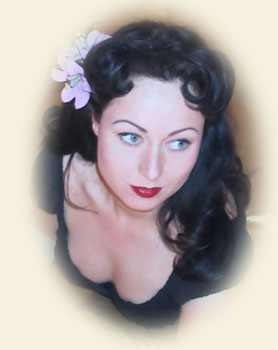 Love Me" which is closer to the Maddox Brothers and Rose version as opposed to the Bull Moose Jackson version. Her voice is perfect for the Charline Arthur song "Hello Baby" and one song you (happily) won't be able to get out of your head is Annita's fantastic version of "10:10 AM". My favorite song on this disc? It's the title track, "What Good'll It Do Me"! Some rockin' folks might shy away from an Ella Mae Morse jazz/pop tune but Annita not only takes this number on full throttle, she makes it her own! Annita's vocal talents require the best backing band available, so it's no wonder that she's got heavy weights in 2 - yes 2 - countries joining her on this disc. As the saying goes, "Birds of a feather flock together" and there's no question as to why Annita has not only the best of The Netherlands on this disc, but the best of Texas as well. You'll find ringers like Kevin Smith, Shaun Young, T Jarrod Bonta, Dave Biller, Chris Miller, Horton Brothers Bobby & Billy, Buck Johnson, Eamon McLaughlin, Roger Wallace, Joey Simeone & Nick Curran adding fire to Annita's flame! With Annita's sultry, powerful voice, you won't want to take this disc out of your player. Guaranteed!
Added: Tuesday, December 03, 2002
Reviewer: CariLee
Score: *****