The Hottest New Sound in Old Time Music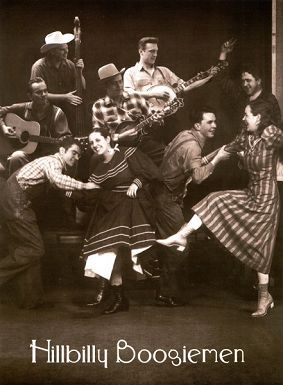 At last! This band has done what many, many others have tried. Standing knee deep in Bluegrass, with the Honky Tonk Blues in their hearts and the Rockabilly fire in their souls, these guys got that Hillbilly fever goin' 'round again. Let that fever catch you too!
Seeing them pumping their raw energy into their instruments, while singin' their hearts out, makes you feel like you're in a roadside Honky Tonk, some fifty years ago. That's where these mad mountainmen from the lowlands of Holland really belong, but your stage will do just fine too.
Professionals? You bet! Many years of experience have taught each member what performing good music is all about. Together they broke down the barriers between hot Rockabilly, heartfelt Country and hard driving Bluegrass, making it all fit perfectly in one energetic show. And that's a show you definitely don't want to miss!
You see, they're not just a Bluegrass band, but their two, three and even four part harmonies were called 'the tightest of any band I've heard' in Bluegrass Now magazine (USA), and 'High-energy Bluegrass at its finest' is what Bluegrass Unlimited magazine (USA) wrote about them.
They're not just a Rockabilly band either, but with their slap bass, loud leadguitar, mean bluesharp and unique foot-played drum, they can certainly get a crowd rocking.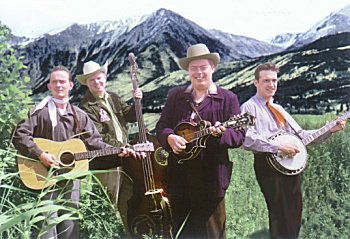 They were even voted 'Best Rock 'n' Roll band' by the readers of fifties lifestyle magazine 'Boppin' Around' (NL) twice, and Rock 'n' Roll magazine 'Now Dig This'(GB) even called them 'Holland's best exportproduct since the tulip'!
Not to everyone's taste? Don't worry, they feature a lapsteelguitar and play Hank Williams Sr. and George Jones songs with the best of them. They were voted best (traditional/acoustic) Country band no less than eight times by the Dutch Country Music Association.

So whatever your taste in real country music is, the Hillbilly Boogiemen will have something for you. They're superbly entertaining, and you just won't want to miss them