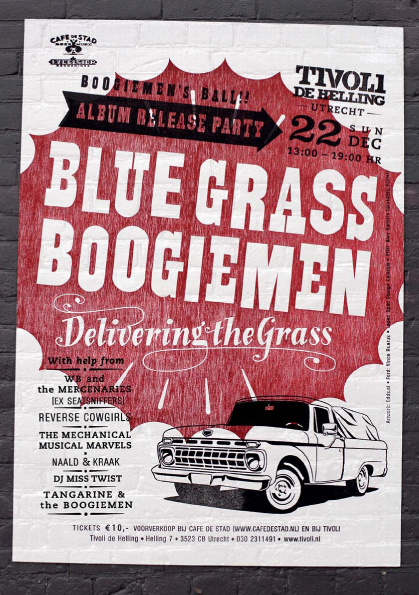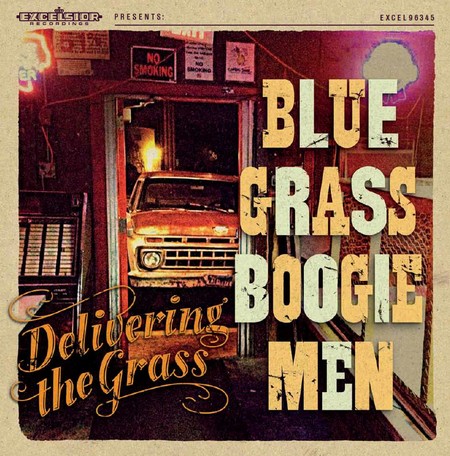 New CD Out Now!
Persbericht Excelsior Recordings

Delivering the grass - Blue Grass Boogiemen

'Delivering the grass' is het vierde album van de Blue Grass Boogiemen. Deliverin' the grass is tevens hetgeen de Blue Grass Boogiemen al jaren doen, zowel hier in Nederland als in de rest van Europa en in de VS. Van Paradiso tot 's werelds meest beroemde bluegrassclub de Station Inn in Nashville, Tennessee; van de Rodeo Bar in New York tot de Continental Club in 'live music capitol of the world' Austin, Texas; ze traden er op. Al ruim 22 jaar staan de Blue Grass Boogiemen voor het beste wat Nederland qua authentieke rootsmuziek te bieden heeft.

Dit nieuwe album, wat wordt uitgebracht door Excelsior Recordings, is het eerste album wat geproduceerd werd in samenwerking met Frans Hagenaars. Hun gezamenlijke kennis en expertise heeft geleid tot een eclectisch album met voornamelijk eigen werk, aangevuld met een paar traditionals en nummers uit het bluegrass repertoire. Chris Hillman (bekend van o.a. The Byrds en de Flying Burrito Brothers) schreef het volgende over het album:
I RARELY ENDORSE ANYTHING THESE DAYS, AND IF I DO IT HAS TO BE REALLY INTERESTING, REALLY GOOD AND HONEST AND UNIQUE. THIS RECORD HAS ALL THE RIGHT INGREDIENTS. SOLID PLAYING AND SINGING AND A GREAT CHOICE OF MATERIAL.
HEARING THESE BOYS KICK OFF THE JIMMY MARTIN CLASSIC "YOU DON'T KNOW MY MIND" IS FANTASTIC, BECAUSE THEY KNOW THIS MUSIC, AND YOU DON'T HAVE TO BE FROM KENTUCKY OR NASHVILLE TO KNOW THIS MUSIC, TO FEEL AND UNDERSTAND THE SOUL OF BLUEGRASS. THAT'S WHAT IT'S ALL ABOUT.

THE BOOGIEMEN SWING, AND THEY SWING HARD AND FAST.

CHRIS HILLMAN
JULY 2013
De nummers behandelen de onderwerpen van het leven, waar iedereen mee te maken heeft. Zoals hartzeer, de eenzaamheid, wanhoop en de dood. Dit alles, op een klassieke manier beschreven en in authentieke bluegrass (met hier en daar een uitstapje) gegoten, onderstreept maar weer eens dat ook deze vorm van de blues haar tijdloosheid allang heeft bewezen. En de hernieuwde opleving van dit genre in Nederland, is ook niet in de laatste plaats te danken aan deze heren. 'De Boogiemen houden roots en traditie actueel met een ongekende overdosis energie' werd ooit over hen geschreven. 'Deliverin' the grass'; een beter bewijs hadden ze niet kunnen leveren.
=> Here's how to grow the Blue Grass seeds!! <=
---

Waldorf Weekend

<update: 3 may '13>

Hi folks!

Here's a quick update for you, about what we've been up to since the last one. We've been quite busy playing gigs here in Holland and abroad. The first edition of the 'Bluegrass at 'De Parel van Zuylen' festival was a great succes and we congratulate our fiddlin' friend Joost van Es with that. Looks like there's going to be happening a lot more there in the future. We had a lot of fun seeing many of our friends of the Rock'n'Roll-scene in Germany, when we played at the Waldorfer Weekend (as Hillbilly Boogiemen). Thanks folks, that you haven't forgotten about us! That same weekend there was a wonderful Bluegrass festival going on in Greven, Germany, where we played on Saturday and Sunday. We sure hope to be back there again sometime. Then, another fun trip abroad took us to our beloved Westport in Ireland, for a return to the 'Westport Folk and Bluegrass Festival', which again was absolutely brilliant. We're happy to see that the festival has been growing quite big since the last time we played there. Lots of national and international acts performed throughout the weekend, and there were sessions everywhere. Thanks for showing us so much hospitality again, dear friends in Ireland!

Apart from all the gigging and traveling, we also have been in the studio to record for an album by our friend Herman de Brock, at the 'Goodnight John-Boy Studio'. We're looking forward to hear how that turned out. Furthermore we finished the recording and mixing of our own forthcoming album for Excelsior Recordings. It'll be a while before it will be released, but we're telling you, if you like our music, then you really got something to look forward to. It has become an eclectic mix of numbers, with a whole lot of original tunes and some classic favorites of ours. It'll be out in October, and right now the folks from Excelsior and from 'Zwaardvis Bookings' (who will be handling a lot of our festival- and clubdates from now on) are busy getting together a nice line up for our release parties, which will be held once the album will be out. We'll keep you posted on that when the time comes.

Now we got some more fun stuff to look forward to, like the 'Pijnackerplein Bluegrassfestival' in Rotterdam, the 'Big Texas BBQ' right in the middle of The Hague and later on in the year, one of the biggest festivals in The Netherlands, the 'Zwarte Cross'. For dates, check our tourdates on the website (www.bluegrassboogiemen.nl).

Hope we'll see you somewhere down the line!


the rest: Westport Ireland


Greven Grass


Greven Grass


Parel v Zuilen


Parel v Zuilen


click for more Ireland
---
<update: 3 may '13>

Hi folks!

Since the last update we've been in the studio to complete the recordings for our forthcoming album. So far so good. Next month the mixing will start and when that's done, it will be a while before the album will be out. Can't tell exactly when, but we're working on it.

We've had some fine gigs these last couple of weeks and have a lot to look forward to in the weeks that lie ahead. To name a few: next week we'll be at the bluegrass festival in Utrecht, NL which is put on by our fiddlin' friend and honorary Boogieman Joost van Es. For the line up, check the poster. We'll also be performing at the Waldorfer Rock'n'Roll Weekender in Germany and at the Grevengrass Bluegrass Festival, also in Germany. So that'll be a lotta 'Rocking & Clogging' in Germany, all in the same weekend! Only the Boogiemen hahaha...

On a sadder note, last week one of our absolute musical heroes and arguably the finest singer in countrymusic ever, George Jones passed away. Folks who know us, know that one of our mottos has always been 'Wherever we play, there are at least four George Jones fans' (coined in an interview we had with The Washington Post some 15 years ago), and we always pay tribute to the Possum every show we play. And now after his death, of course we will continue to do so.

We hope to see you folks at one of our shows, and please keep those photos and messages coming in! (photos by Jelle Mollema at the 'Museumnight', Espressobar Boijmans, March 2013)
---
<update: 11 march '13>

Hi folks!

It's been a great couple of weeks since our last update. We've had some fine shows and met many old friends and made a lot of new ones. Unfortunately we had to say goodbye to a special one, Jaap 'The Birdman' Vogel, who came to see us play on a regular basis, and oftentimes joined in doing his legendary rendition of 'Your cheatin' heart' and playing harmonica on 'Life's railway to Heaven'. Well, he's on that railway right now. Doctors gave him up 4 years ago, but he was a though old boy. We're grateful our paths have crossed many times, and he will be missed by all of us.

Between gigs, we've been in the studio, recording our forthcoming album for Excelsior Recordings. So far everything has gone very well. Producer Frans Hagenaars really knows his business, and we're pretty confident it's going to sound great. There's a lot of originals on it, which we haven't played a lot live yet, so that's something to look forward to for the folks who like our stuff. We tried to make the mix of tunes eclectic, as usual, and there will be guest appearances by two fiddlers who are topclass over here.

Thanks for the nice response we got for our radio performance for 3FM. We had a lot of fun there, meeting up with our old buddy Fred Siebelink. Always a blast. We hope to be back there sometime in the near future.

Thanks also for the nice photos and footage you've been sendig us. Keep 'em coming, they're greatly appreciated!

Next week we'll be back in the studio to finish the recodings, so that'll keep us busy. Of course, there'll be gigs as well, so we hope we'll see you all somewhere down the line.

All the best from the Boogiemen!
---
<update: 4 febr '13>



Hi folks!

We're well into the new year, and these first couple of weeks have been great for us. There has been another national tv appearance for 'Tijd voor Max' (www.youtube.com/watch?v=V7IsdpL2NGA) and some memorable shows at the 'Kleine Komedie' theater in Amsterdam, where we played alongside wellknown Dutch artists to present the forthcoming album 'De Supersonische Boem' featuring songs written by Annie M.G. Schmidt and Harry Bannink. Many of these songs are very wellknown here in Holland and have been populair for many years. If you want to hear us sing in Dutch, here's some footage of the soundcheck: www.youtube.com/watch?v=yWcTAHSpsmI. We got some great response for both our tv appearances and the shows at de Kleine Komedie. We're confident this exposure will open some new doors for us.

Last Saturday we travelled all the way to Nantes, France to do a Hillbilly Boogiemen show there. The place was sold out and we got a great reception. And what a wonderful welcome! We sure hope to be back there some time in the future. Thanks folks of the Western Country Friends, for showing us a wonderful time!

If you want to know where we'll be performing, please check our website www.bluegrassboogiemen.nl and look under 'Tourdates'. We hope you can make it to one of our shows!



---

Hank tribute, Paradiso, Amsterdam

<update: 8 jan '13>

Hi folks!

First of all, we want to wish all of you all the best for 2013, and hope to see you all somewhere down the road. We certainly closed up 2012 in a great way. We did a couple of fun gigs, most notably our performance on the tv show Top 2000 a GoGo, where we had to do bluegrass versions of popsongs. The two guests (wellknown Dutch artists) had to guess which songs we were playing. It was a great succes, and judging from the many great reactions we got, it did our name, and bluegrass music over here in general a whole lotta good (you can see the footage below).

2013 couldn't have started better. On January the 1st, we played for a Hank Williams tribute show, entitled 'The day Hank Williams died', at the famous Paradiso in Amsterdam. Apart from our own (bluegrass-)versions of Hank songs, we also backed up a couple of well- and lesser known Dutch artists. The place was packed and everybody we heard from, had had a wonderful night. Again, we couldn't have started 2013 better than this way.

Then, on Saturday we were back in Amsterdam, for a gig at a club called Pacific Parc. A place we'd never played before. And what a great place it is! Great DJ's and a wonderful athmosphere. And special thanks to our buddy Rik Krielaart for putting the word out. Very much appreciated mate! We sure hope to be back there again in the future.

And last but not least, our annual gig at one of our favorite places in the world to play; our own local hang out 'Café de Stad' in Utrecht. As usual, the place was packed and fun was had by all. All in all a fantastic start to what we hope will be a wonderful year for everyone!

(thanks to André van Rikxoort, Monique Lavalette, Roy de Rooij, Pantea Hermans, Marije vd Poel, Don Sanne en Jerry Goossens for the pics)


Pacific Parc, Amsterdam


Hank tribute, Paradiso, Amsterdam


Cafe de Stad, Utrecht


Hank tribute, Paradiso, Amsterdam


Cafe de Stad, Utrecht


Hank tribute, Paradiso, Amsterdam


Cafe de Stad, Utrecht
---
---

"Hé hé wordt wakker.."


".. hier is de bakker"


"Hé hé wordt wakker.."


".. hier is de bakker"


backing up Tommy Allsup

<update: 19 dec '12>

Hi folks!

It's the most wonderful time of the year! We've sure been keeping ourselves busy, working on different projects. We've recorded our addition to the Annie M.G. Schmidt (a famous Dutch writer) tribute album, and are pleased with the result. It was the first time we worked with the guys of the Excelsior Recordings label and the collaboration went just fine. We're looking forward to recording our next album for them in February.

Another project was us backing up Tommy Allsup. Tommy played guitar in Buddy Holly's Crickets and worked with Bob Wills, Ray Price, the Ventures and numorous other big names in music. It sure was a pleasure and an honour to join this legend on stage.

Another, to us very exciting project went on last Sunday, but unfortunately, we can't say anything about that yet.

We're looking forward to a what looks to be a very exciting new year, and hope the same for all of you. Merry Christmas everybody! And we hope to see each and everyone of you in 2013!

(Photos courtesy of 'De Supersonische Boem' and Etienne Stekelenburg)


"Hé hé ....."


backing up Tommy Allsup


backing up Tommy Allsup


backing up Tommy Allsup


Tommy Allsup


Tommy Allsup


backing up Tommy Allsup
---

Het Centrum, Horst

<update: 6 nov '12>

Hi Folks!

We've had some fun gigs over the last week and a half. Some private, and two public ones. The first of the latter was in Horst, at a great little bar called 'Het Centrum', where we met with some old friends, and made some new ones. We hope to be back there before too long. And I must say, 'Duvel Triple' beer is pretty darn good! Thanks for the pics Loes Coppus!
The other one was a show put on by our good friend and master fiddler Joost van Es (who also joined us for both sets), at de Musketon in Utrecht. He's trying to get more attention for bluegrass and associated acoustic music by putting on bands, with a jamsession afterwards. We had a real good time and we sure hope Joost is going te get things rolling out there. Keep up the good work brother! Thanks for the pics Odette van Dort!

Another thing we've been keeping ourselves busy with over the last week is arranging a song in Dutch! That's a first for us! The Excelsior Recordings label is going to put out an album featuring songs written by the famous Dutch writer Annie M.G. Schmidt, covered by wellknown Dutch artists like Spinvis, Marike Jager, Tim Knol, Henk Koorn (Hallo Venray), Dave von Raven (The Kik), JW Roy en Anne Soldaat (www.musicfrom.nl/nieuws/...). We selected one of her songs and 'grassed it up' to suit our style. We'll be in the studio next week and are pretty anxious to hear what we will sound like in Dutch! We'll keep you posted on the proceedings.

That'll be it for now. Thanks for your messages and pictures. Keep 'em coming, we sure like the attention!


Het Centrum, Horst


Het Centrum, Horst


Het Centrum, Horst


Het Centrum, Horst


Het Centrum, Horst
---

Roots in the Woods

<update: 24 oct '12>

Hi folks!

Here's a few pics and a link to some footage from our last gig, shot by our soundguy John Blok. We played the 'Roots in the Woods' festival in Apeldoorn and we had a lotta fun. The guy who booked us there already asked us back for next year, so we must've done something right.

And here's the poster Joost van Es made for the gig he put on here in Utrecht, November 2nd. Looking forward to that! Joost himself will be joining us on fiddle, which we're sure is going to be great. Joost used to play with us on a regular basis during the 1990's. He now has been playing with his own band 'Four Wheel Drive' for many years and does lots of studio work and back up for many different artists in the Netherlands and abroad. He can be considered one of the best fiddleplayers in Europe, and it's a pleasure to share the stage with him.

In the meantime we're still busy selecting and arranging songs for our cd for Excelsior Recordings. It looks like we'll be in the studio around February 2013.

Finally, here's two other events we'd like to mention. One is the 'Rock'n'Roll Christmas Party' where we'll be performing as the Hillbilly Boogiemen, and also will be backing up Tommy Allsup, who used to play guitar in Buddy Holly's band. The other event is 'The day Hank Williams died' on the 1st of January, at Paradiso, where we'll be doing our tribute to the Hillbilly Shakespeare, and will be backing up others as well.

Hope to see you folks there, or somewhere else down the line.


Roots in the Woods


Claudia (tegen het) Hek
---

IJsselpop

<update: 24 sept '12>

Hi folks!

All three gigs over the last weekend went great. First on Friday we played for IJsselpop in IJsselstein. A great little popfestival, which also supports local bands. A pity that this was the last edition of the festival, but we're glad to have been able to be part of it. On Saturday we were booked for a private party at a small horse ranch in Voorschoten...western style. That was a lotta fun. The folks were all dressed up and there was a lotta dancing going on. And on Sunday we performed at a country & western festival in Arnhem. It had been quite a while since we were booked for one of those, so it made a nice change. Luckily there were no guns allowed, so there was no need to feel unsafe (although we thought we spotted some injuns near the restrooms...). Dutch singer-songwriter Dick van Altena joined us on stage for a Merle Haggard song and the folks really enjoyed the music.

So it had been quite a busy week with four gigs (we had a private party earlier in the week), but the week that lies ahead won't be. Which ain't bad, as we'll have time to concentrate on the forthcoming album for the Excelsior label. So far we recorded about 6 self-penned songs for the demo. It sounds like they're about ready to be recorded. We'll keep you posted.



IJsselpop


IJsselpop


IJsselpop


IJsselpop


IJsselpop


(C &) Western in Arnhem


Dick van Altena


IJsselpop
---

Cowtown - Pre-party

<update: 17 sept '12>

That was another great weekend. Saturday we went to Germany for the Cowtown Rocks Again weekender, which was a lot of fun. The scene was an old western-type street and the stage was set up was outside. First up were the Haystack Hi-tones, who did a great set. Soon the folks were boppin' and jivin' around and the atmosphere was great. Then we were up. It's always great to enjoy the enthousiastic response of the rockabillies to our brand of bluegrass. We also threw in some grassed up versions of rockabilly tunes and they loved it. Afterwards there was a wonderful afterparty where fun was had by all.

On Sunday we went down to Waalre where we played for the Kempener Pop festival, sharing the bill with acts as diverse as Demented Are Go to Dutch folk icon Armand. The show went great and the crowds response was wonderful. It makes us smile with pride to know we put bluegrass music on the popfestival-map over here, and we can make the young folks feel the high-energy of the music, just like they feel it in any other type of music. We sure hope we'll be invited to many more of those festivals to come, and keep giving Bill Monroe's music the stage and attention it deserves.

Thanks folks in 'Cowtown' and at the Kempener Pop festival for another unforgettable weekend!

Next up are another popfestival, this time closer to home, in IJsselstein and a countrymusic festival in Arnhem. Hope to see you folks there, or anywhere else down the road!


Kempener Pop - 2012


Cowtown - Haystack Hitones


If you wanna play in Cowtown, you gotta have two fiddles in the band


Okay, Robert broke a string, but where the *bleep* is Arnold going?


Cowtown - Are You Missing Me


Cowtown - 2012


Cowtown - Are You Missing Me


Cowtown - Afterparty!


Kempener Pop


Kempener Pop
---

Marike Jager


Blue Grass Boogiemen


Tim Knol

<update: 10 sept '12>

Hi Folks!

It was a great weekend again. This time we played the 'Into The Great Wide Open'-festival, on the beautiful island Vlieland, The Netherlands. Our set went like a dream, with very enthousiastic response from the crowd that came to...see us play on the stage, which was set in the middle of the woods. We were joined on stage by the lovely Marike Jager who sang her song 'Reducer', bluegrass style. She did a great job! Tim Knol also came on stage and did a wonderful rendition of the Hank Williams song 'I saw the light'. Both Tim and Marike are very popular singers here in the Netherlands and it was an honour to have them on stage with us. Then, at 00.30 in the morning we played another set, and this time we returned the favor to Marike, backing her up for her set. And again, Tim joined us and sang Bob Dylan's 'You ain't going nowhere' and his own 'Sam's leaving town'.


After several requests from the crowd, which grew larger and larger as everyone was twitterin' 'n' tweetin' around, we called it a day. And what a day it was!

Thanks folks, for the support and the warm welcome. We sure hope to be back at this wonderful festival sometime in the future!

This weekend, on Saturday, we'll be traveling to Germany to see our friends at the Cowtown Rocks Again Rockabilly weekender, with The Haystack Hi-Tones, Junior Marvel, K.C. Credit. DJ Sputnik and The Spinning Two will be playing the records. On Sunday day we'll be back in Holland to play the Kempener Pop-festival, alongside Peter Pan Speedrock, Nashville Pussy, Demented Are Go, Armand and many others. Again, a weekend to look forward to!

Hope to see you folks there, or somewhere else down the road.
---

Swapping jokes again

<update: 4 sept '12>



Hi folks!

We had us a great time at the Appalachian and Bluegrass music festival in Omagh, N-Ireland again. We met a lot of our friends and made us many new ones. The shows all went very well and we sold out on the cds. Especially the show at the sold out marquee, on Saturday night, was fantastic! Also the sessions at the pub near where we were staying were great. The organiser of the festival made it clear that we will be back at the festival sometime in the future and we're surely looking forward to that! Thanks folks, for making us feel so welcome again!

This week we'll be going to the 'Into the great wide open'-festival, which is quite a big deal over here. One of the biggies so to speak. We hope the folks will be up for some bluegrass between all the other types of music featured there. Looking forward to that!


Starting young!


Have you hugged your banjo today?


Wilbur Tharpe, spirited gospelsinger
and even more spirited joketeller


Devil is waiting for me...
---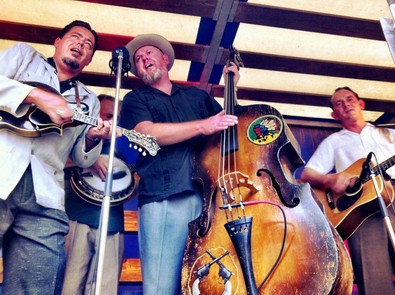 Blue Grass Boogiemen, Texas-BBQ, Den Haag-2012
<update: 27 aug '12>

Summer break has only just been over, and already we've been pretty busy during the last weekend. On Friday we played at a festival featuring country, rockabilly and bluegrass music in The Hague at the Grote Markt, right in the city centre. Also performing were our friends from 'K.C. Credit and the Cashiers' and 'Stringcaster'. It was great to see those guys again, as well as catching up with our local friends that came to see us all play. Then on Saturday we did the so called 'Tour de Terras', where a number of bands play short sets at various stages in the city centre. That was quite hectic for the bands performing, as they all had to do 7 sets with only a few minutes in between to get to the next stage, do a short soundcheck and perform again. But for the audiences sitting at the different stages, the concept offers a great opportunity to see a whole bunch of acts within a relatively short timespan. And the organisers did a fine job putting the whole thing together and accomodating the artists, making sure that everyone would be well up to it all. Luckily the weather wasn't nearly as bad as expected, so a lot of folks showed up and fun was had by all. Then on Sunday we performed at a private party for folks who have been supporting us for quite a while now. A nice way to start our new season!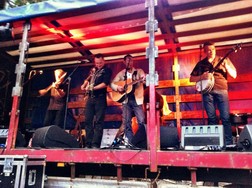 Stringcaster, Texas-BBQ, Den Haag-2012
And this week we'll be traveling to Northern Ireland to see our friends at the Ulster American Folk Park in Omagh again and to perform at the Appalachian and Bluegrass Festival. Apart from the show at the marquee on Saturday night, just before Michael Cleveland and Flamekeeper (USA), we, along with many other bands from the US as well as from Europe, will be doing several sets on Friday, Saturday and Sunday, throughout the park.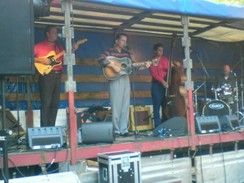 KC-Credit and the Cashiers, Tx-BBQ, Den Haag-2012
And there will probably be a lot of old-time and bluegrass jamming going on, so if you're into all that and have the opportunity to go, it certainly is well worth the trouble. The Ulster American Folk Park itself already is well worth the effort, as it is a sort of permanent exhibition of how the folks lived during the days of the great migration to the US, and what their first settlements in the 'new world' looked like. So the perfect backdrop for some great music!
So, as ever, we're keeping ourselves busy and we certainly got some great things to look forward to. We'll keep you posted!

P.S. Thanks for sending your snapshots. They're always very welcome and we like to use them when we can. So keep 'em coming!
---
<update: 20 july '12>

As we wrote earlier, the summer break is coming up. After that we'll continue working on our forthcoming cd for the Excelsior label. It's going te be one with mostly original songs and we sure hope you're going to like it. The whole project is quite exciting for us, as Excelsior Recordings is one of the major labels over here in Holland. We sure are proud to be on there.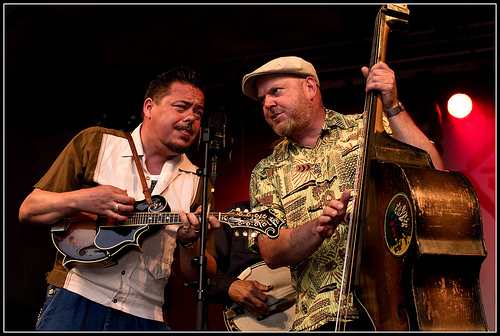 Also, after the summer, we'll be coming over to see our friends at the Ulster-American Folk Park (Omagh, N-Ireland), for the Appalachian and Bluegrass Music Festival. That's always a treat. Apart from the performances (by bands from the US as well as Europe) there's always plenty picking going on at the various jamsessions. Maybe we'll even enjoy a Guinness over the weekend. After that, we'll be hurrying back for the 'Into the great Wide Open'-festival here in the Netherlands. That's a major event over here and we're very much looking forward to that also, as we are to the other festivals and clubdates we'll be doing of course (you can find them under 'Tourdates')

foto: Blue Grass Boogiemen, Texas-BBQ, Den Haag
---
<update: 10 july '12>

it has been a wonderful weekend again. First, on Friday, we played In Schaffhausen. A gig Tina Clark organised for us. The name of the bar is Dolder2, and we sure had a lot of fun. Saw some old friends and made some new ones. We sure will be back there sometime. Thanks Tina, for your hospitality!

On Saturday we travelled to our friend Jacob, who used to own the bar 'Ledig Erf' here in Utrecht. He now runs a place in the Vosges Mountains: La Haute Fourche, and the Tour de France was going to pass through their village. After that, we played for the residents of his place, which was a lot of fun. It was also great to see our friend DJ Jan de Kruiff again. That had been a while!

On Sunday we went back to Switzerland again, to see our friends of the Helsinki Klub . We've played there many times before, and it's always a blast. Great to see so many folks show up on a Sunday evening. It sure is one of our favorite places to play. We hope to be back in Zürich before too long!

Thanks folks in Switzerland ad France, for making us feel welcome and showing us a good time! We'll be back!




Dolder2, Schaffhausen - photo: Tina Clark


Souvenir: Tour de France hat


Belle, Maurice and Erik were staying at Jacobs place in the Vosgese Mountains also


Jacob in front of 'La Haute Fourche'
---

Blues and Bluegrass festival Hoogeveen

Continental Club - photo: Angélique de Hoyos

dB's 18/2/'12 - photo:Michel Fenderwoods

Maloe Melo mei '12 - photo: Sappho Panhuysen

<update: 1 july '12>

Our summer holiday break is coming up, so it's time to reflect some on the passed couple of months. We had some pretty memorable gigs and made lots of new friends. It was a pretty eclectic mix of events where we performed: apart from our clubdates we played at bluesfestivals, rockabilly festivals, a jazzfestival, a punk/garage/hardcore festival and later in the year we'll be at the 'Into the great wide open'- festival, which is one of Holland's major music events.

We haven't done that much traveling abroad since we returned from our last tour in the US, but we'll be coming to look up our friends in Northern Ireland where we'll be appearing at the Appalachian and Bluegrass music festival in the wonderful Ulster American Folk Park in Omagh. Looking forward to that!

Our latest cd 'Live at Café De Stad' has gotten some good reviews. It is available through this site, but also through CD Baby (as well as some of our other albums). It's only a few months old, but we're already working on the new one, which will be released on Excelsior Records (one of Holland's premier labels). It will have a whole bunch of our own songs on it and we're looking forward to working with the guys from Excelsior Records.

That's it for now. Have a wonderful summer friends and we hope to see you soon!


Pijnacker - photo: Etienne


Pijnacker - photo: Etienne


Pijnacker - photo: Etienne


Pijnacker - photo: Etienne


Pijnackerplein - photo: Jolanda Haanskorf
---
NEW CD OUT NOW
_______________

Blue Grass Boogiemen - ´Live at Café De Stad´

Hi Folks!

This is our latest CD. We recorded it live at Café De Stad, in Utrecht, Holland last October, to celebrate the 12,5 year anniversary of the cafe.
Apart from our usual line-up and repertoire of classic bluegrass tunes, this album also features Maurits Westerik (GEM), Spijk Groenendijk and Jolanda Peters (The Faraways) as guest singers and Joost van Es on fiddle.

It's a limited edition, so don't wait, don't hesitate, get your copy now before it's too late!



---

Our new Blue Grass Boogiemen t-shirts are here!

Designed by no one less than Claudia Hek herself (www.claudiahek.net) as a return favour for Bart and Arnold's contribution to the cd she made with the 69'ers last year.
Though the 69'ers are not together anymore, you still might want to check out their cd; it got some great reviews from all over the western world.

But before you spend all your money on them, save 10 bucks and get yourself a brand spanking new Blue Grass Boogiemen t-shirt!
You deserve it!
---
NEW CD OUT NOW:
'Hits of Hank Williams' - Blue Grass Boogiemen

This album is the last in a series of Dutch artists covering American countrymusic icons, initially put out by the Dutch 'Starsound' label (which no longer is in business; fortunately the CRS label was willing to release this one). A few years ago Starsound Records owner Ruud Pennings asked us to do a 'Hits of Hank Williams' cd for his project. Though at first we thought that an album featuring only somewhat more obscure numbers instead of hits of 'the Hillbilly Shakespeare' would suit us better, we simply just couldn't resist the offer. Hence often covered favorites as 'Jambalaya (on the bayou)' and 'Cold, cold heart' couldn't be left out (we already recorded 'Your cheatin' heart', 'Move it on over', 'A mansion on the hill' and 'I'm so lonesome I could cry' for previous albums), but that didn't matter to us at all; we're all huge Hank Williams fans and to us all of his songs are hits.

As a matter of fact, ever since we started playing together, Hank's songs have been an integral part of our repertoire. We've even done many Hank Williams tribute shows, playing his songs exclusively. And folks who know us, know that almost every after hours jamsession we're involved in, sooner or later evolves into a celebration of Hank's work. So, to say the least, we love his music, on and off stage, and we're convinced of the fact that the world can never have too many albums with Hank's songs, whether they're well-known hits or not.

Of course Hank Williams wasn't a bluegrass artist, but his songs are very suitable for and often covered in the genre. Notably 'Father of Bluegrass' Bill Monroe himself recorded some of Hank's songs (they even co-wrote one, entitled 'I'm blue, I'm lonesome') and many other bluegrass greats followed. But the music of Bill Monroe and that of Hank Williams have more in common. Both men were no strangers to that feeling called the blues and both men wrote and sang about it in their own uniquely intense and inimitable ways, resulting in what we think is some of the most passionate, heart-wrenching and soulful music ever recorded. Indeed, 'blue and lonesome'.

Yet another similartity between the music of Bill Monroe, bluegrass, and the music of Hank Williams is that both have stood the test of time. This is proven by the the fact that nowadays their appeal still seems to be as big as ever, but to an ever growing audience, more diverse than ever before. And both Williams and Monroe, as they have done since the beginning of their careers, continue to inspire artists all over this world even after they themselves have left it years ago (Hank in 1953, Bill in 1996).

Needless to say, to us it was quite a challenge to record this album. To interpret these classics and do them justice by trying to make them our own, yet fully retain the respect and traditions of the music we love, was not, and in our opinion wasn't supposed to be, easy. But we think we did the job and hope that you'll agree.

So making this album truly was a labor of love. But how did we go about it? Well, first we decided to only use songs Hank actually wrote, then everyone of us suggested a few and together we made a selection. When we started arranging them we obviously tried to convert most of the songs into bluegrass. A few others though, we tried to keep somewhat closer to the original. Some we changed around altogether. But, with the exception of 'Let's turn back the years' (which is rewritten into a tribute to Hank) and 'Cajun baby' (which Hank did write, but as far as we know never actually recorded) we always tried to stay true to what we think was the essence; the meaning of the words and the overall feeling of the songs.

It became quite an eclectic mix with styles ranging from bluegrass to country to rockabilly to cajun. Our friends Joost and Mark of the Dutch cajun band 'Captain Gumbo' helped us out to add some cajun-flavor to 'Cajun baby' and 'Jambalaya (on the bayou)' with their 'tit fer and French accordion, but the rest of the songs are all played with the traditional bluegrass line up of banjo, fiddle, guitar, mandolin, upright bass and some dobro here and there. It just goes to show how well Hank's songs work in some of the different types of music we enjoy, and enjoy to play.

We truly hope you too will enjoy our versions of these 'Hits of Hank Williams'.
---
The World International Blue Grass Band (feat. Arnold)
Click on the picture for a short story and some photos!
<update: nov '07>

Well, Arnold is back from his trip to the planet of Butch Robins. And what a trip it was! Everything went very well and Robins has pointed out that he wants him back for every tour he's going to organise for the World International Blue Grass Band. The point he wanted to make with this group was showing that bluegrass music is as international as most any other form of American music, like blues, jazz, rock 'n' roll and also rap, hiphop and r&b. Well, he succeeded in his mission and everyone was very enthousiastic about the band and the whole idea behind it. If you want to read more about his view on this, you can read all about his motivations on www.worldinternationalbluegrassband.com.

The Boogiemen have been going strong, also with Arnold gone, thanks to Joost van Es and Jan Michielsen of Four Wheel Drive and Izak Boom, who helped us out. Thanks a lot guys! Your cheques are in the mail!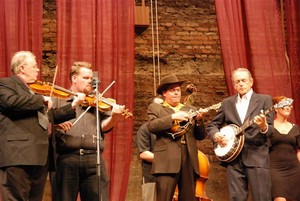 The World International Blue Grass Band (feat. Arnold)
Click on the pic to read some and to see a bunch of photos!
Meanwhile we're still busy with the Hank Williams CD. Yes, it takes a while, but then again, we're nearing the end of one of the busiest years we ever had in our 17 year span. 2008 looks promising as well so we hope to meet a lot of you folks down the line.

Thanks also to everyone who voted for us and made us win the Gram Parsons Award (for best acoustic/traditional country band) for the 8th time!

The Boogiemen are also featured in the new book on 50 years of popmusic in Utrecht, The Netherlands (www.villa-utapio.nl). It's a very enjoyable book which comes with two CD's and yes, the Boogiemen are on there as well.

Finally, the music of the Boogiemen will be featured in a Swiss movie called 'Der Freund' by Micha Lewinsky and Langfilm AG (www.derfreund.ch) which will be played in Swiss cinemas before too long. So we suggest to all our friends in Switzerland to go see that movie!

That's it for now. Hope to see you soon and keep those message coming in our guestbook. We love to hear from you!
Oh, and if you prefer to leave a message with a picture, a videoclip or whatever you can also visit one of our Myspace-sites: www.myspace.com/hillbillyboogiemen. See Ya!
---
<update: jan '07>

The year 2006
was a really good one for us, as it was a year in which we performed at, apart from the many trips abroad (Ireland, Denmark, Norway, Germany, France, Ireland, Belgium and Switzerland), a lot of great shows in our native Holland.
The highpoint
without any doubt being one of Holland's biggest festivals
'Lowlands'
, where we played alongside acts such as Iggy Pop and the Original Stooges, Muse, Massive Attack, Fun Loving Criminals. 'Blue Grass Boogiemen verpletteren Lima-tent' is what VPRO's 3voor12 wrote, which means as much as 'Blue Grass Boogiemen shatter Lima-tent', which was no exaggeration we can state in all modesty. Many people who saw us (including the soundguy of the festival) told us afterwards, or wrote in our guestbook (thanks!) that they had never experienced such an overwhelming reception by an audience in their lives.
To us also it was quite a surprise. We finally put bluegrass music on the map there and proved that this type of music also can work very well on
big pop/rockfestivals
, as long as it's being played with the right energy and enthousiasm it deserves. Just like our friends of the Hackensaw Boys, who proved that their brand of acoustic music also is very suitable for such a festival.
As opposed to anyone who thinks bluegrass isn't suitable for mega-festivals and big stages (as if anyone would be able to decide where bluegrass does or doesn't belong), we want to reach as many people as possible. We're actually quite happy to play those big stages and festivals, because there we also reach a lot of folks who have never heard of this music. Judging from all the messages we got after Lowlands, it seems we won quite a few souls there for this music. And at '
Noorderslag
' (another quite important festival in Holland) we got the same reception. Thanks to everybody who was there and cheered and shouted for more! We'll never forget this.
In 2007
there's also a few things to look forward to (sorry to our friends in the States, no trips across the deep blue planned this year). In March the recording of our addition to Starsounds series 'Hits of...' will be recorded. Starsound asked us to do a
Hank Williams CD
. Apart from some of his best known songs there'll also be some lesser known material selected for this CD. We sure hope you'll like the result.
In April a reprint of the book 'Elvis in Nederland'
by the well known Dutch writer Rob van Scheers will come out, and a CD comes with it on which many famous Dutch artists (ánd the Blue Grass Boogiemen) perform an Elvis-song. Of course we recorded Kentucky's official State Song 'Blue Moon of Kentucky'; one of 'The Father' Bill Monroe's best known (if not thé best known) songs which Elvis covered for his first Sun-single. We hope you'll like the result.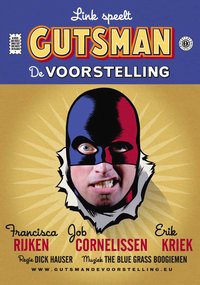 Also,'Gutsman de Voorstelling' will be playing all over Holland throughout 2007. This is the theatre-danceshow which we made the soundtrack for. We recently saw the show and were really impressed. Already we had some folks inquiring after the soundtrack, but right now it's not available on CD. We're still negociating and hopefully it'll be available in one form or another before too long.

We're also working on a programme about Bluegrass music for schools. We recently did such a show when we were invited by the Insula College in Dordrecht. It was quite an experience, but we managed to keep the attention of the 15-year olds and judging to the messages we got afterwards we also won a few souls for the music. Hopefully we can get more schools interested and start that Monroe-doctrine in schools all over the country. Next thing you know, there'll be Bluegrass in the Top 40!

All the best for 2007 everyone and hopefully we'll see you somewhere down the road!